Gutter Services in Franklin, MA
B & B Aluminum Products Inc. is your source for aluminum gutters, copper gutters and vinyl shutters. Family owned and operated since 1974, we take great care and pride in our gutter services in Franklin, Wrentham, Norfolk County, and Bellingham, MA, and will always treat your home as we would our own. We drain your roof—not your wallet.
Your Complete Gutter Solution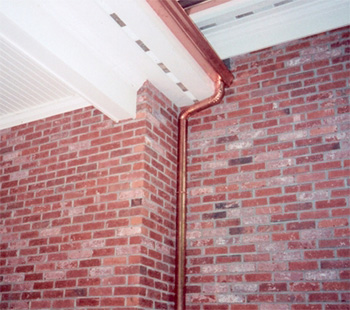 When you're in need of repairs, why not turn to a company that specializes in gutters only? Unlike many roofing contractors, who may tell you they can install and repair gutters but provide those services as an afterthought, B & B Aluminum Products Inc. has more than 40 years of experience working exclusively with gutters. That's a lot of time to gather a broad and deep understanding of anything and everything related to seamless gutters, and the range of our knowledge and experience is apparent in the quality of our work. We're BBB-accredited and so confident in our abilities that we'll even provide free estimates.
The integrity of your roof, your foundation and your landscaping depends upon the proper installation and maintenance of a well-made gutter. The team at B & B Aluminum Products Inc. has worked on countless homes since 1974, which means you can always rest easy knowing we're taking care of your gutter service needs. Whether you need installation for new construction, replacement gutters for your existing home or any of a number of maintenance and repair services, make sure we're the first place you call. You'll soon discover the reasons our loyal customers are still trusting B & B Aluminum Products Inc. for gutter services, so contact us today.
We offer high quality, dependable installation and other gutter services.
We use premium products that are built to last.
We're accredited by the Better Business Bureau and serve all of eastern Massachusetts and northern Rhode Island.
We've been a proud family owned and operated business for over 40 years.
Our prices are competitive and we offer free estimates.
Gutter Service Areas
Bellingham, MA
Dover, MA
Franklin, MA
Foxborough, MA
Medfield, MA
Medway, MA
Mendon, MA
Milford, MA
Millis, MA
Natick, MA
Needham, MA
Newton, MA
Norfolk, MA
North Attleborough, MA
MNorwood, MA
Plainville, MA
Sherborn, MA
Walpole, MA
Wellesley, MA
Westwood, MA
Wrentham, MA